The other day I was visiting my friend Beulah's blog. She had this really neat recipe on her site. It was a peruvian style beef stew (Seco de Carne de Rez) . Now I tell you... I'm all about a good beef stew. I got one of the best beef stew recipes out there (I THINK!) haha... So I'm up for trying different types.
This type of beef stew was really yummy... and so simple to make. It had a very ethnic type taste though. So if your not much into a lot of spices ... you may not like this one. Although Travis loved it and he isnt to ethnic himself ;-)

I did do a few things differently. I'll go ahead and point them out.
I didnt use "beef" in the stew. I used "pork.." Its cheaper and works just as well. Plus they say its healthier.
Also... I didnt use fresh cilantro. I used spice cilantro. I measured it out right I think. Tasted right any way :-)
ALSO. I added carrots in mine... just for a lil' something extra besides pea's... and also... I used red new potatoes instead of baking potatoes. I also left the skin on mine... just because I like the skin. :-)
It turned out well... and CALEB LOVED IT. Theres a picture of him enjoying it below.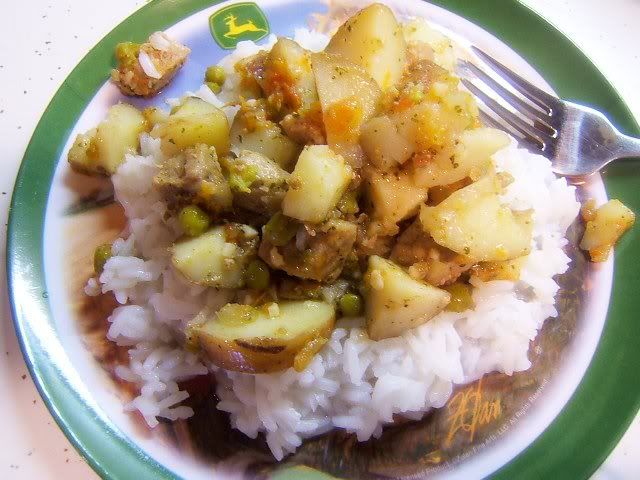 (click for enlarge image)
...........
Ingredients:
3 Tb Cooking oil
1 Tb minced garlic (use more or less according to your taste)
1 large onion, chopped into small pieces
Salt
Pepper
Cumin, just a pinch
Chunks of beef (here we can get beef already cut for stews,
but anything that would make a decent stew will do)
1 tomato (preferably a roma tomato), chopped
Potatoes, peeled and largely cubed
1 cup cilantro mixture*
1 cup frozen peas

Prep:
In a dutch oven or medium sized cooking pot, heat oil, garlic
and onions until lightly browned and onions are almost cooked.
Add salt, pepper and cumin to taste. Add in chunks of beef and
tomato and cook until beef releases its juices or until it's no longer
red all over. Meanwhile, using a blender, create your cilantro mixture.
Pour cilantro mixture over beef and tomato mix, add potatoes.
Cook covered at medium low heat until potatoes are almost done,
about 15-20 minutes. Add peas. Cover and simmer another 10-15 minutes.
Serve over rice and garnish with some fresh parsley. Enjoy!




*Cilantro mixture

Ingredients:
1/2 a bunch of cilantro (about 1 1/2 - 2 cups fresh)
1/2 cup water (approx.)
4 Tb oil (optional)

Prep:
Mix all ingredients in blender until smooth
and until you have about 1-2 cups mixture.