I was looking online today for a easy recipe I could make with stuff I already had at home... So I went to www.kraftfoods.com. They have all sorts of easy recipes and cute ideas for kids.

Any how. This is the one I am going to try today (I liked it because all you need are a few simple and cheap ingrediants!):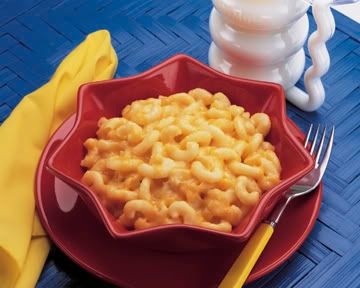 One-Pan Mac & Cheese Bake

2 pkg. (7-1/4 oz. each) KRAFT Macaroni & Cheese Dinner
4 cups boiling water
1 cup milk
1/2 cup (1 stick) butter or margarine, cut up
1 cup KRAFT Shredded Cheddar Cheese
24 RITZ Crackers, crushed (about 1 cup crumbs)
PREHEAT oven to 400°F. Spray 13x9-inch baking dish with cooking spray. Place Macaroni in prepared dish. Stir in boiling water; cover with foil.
BAKE 15 min., stiriing after 7 min.
STIR in Cheese Sauce Mix, milk and butter. Sprinkle with cheddar cheese and crushed crackers. Bake, uncovered, an additional 5 min. or until cheese is melted and crackers begin to brown.
------------------
Travis hates it when I cook those boxes of Kraft Mac & Cheese... just because its so plain. He likes the old fashion baked mac & cheese. I make the cheap box kind though because its easy, fast and Caleb loves it! Before we had Caleb I use to make the nice baked mac & cheese from scratch. Flour, butter, two kinds of cheese... you name it. It was good.... but it was REALLY expensive to make. Cheese cost a lot.... and it made SO MUCH. Travis and I could never eat enough of it before it went bad. So the box kind just seemed to work better for us... BUT today I'm going to try this out! It looks yummy!