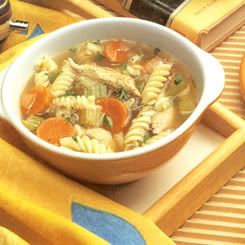 I made this recipe yesterday for dinner. I figured it would be quick to make and good for Caleb to eat since he is sick. I got the recipe out of my Rachael Ray 30-minute comfort foods recipe book. I love her recipes. They are so simple and very easy to make. They taste great as well.

I didnt get a picture of my soup... I didnt think about posting this recipe until this morning... so I apologize for that. I found a google pic though of some soup that looks similar to what I made.

Ingredients:

~ 1 tablespoon extra-virgin olive oil (once around the pan)
~ 1 pound boneless, skinless chicken breast (or tenders)
~ 2 carrots, peeled and diced
~ 1 medium yellow-skinned onion, chopped (I dont use onions in my soup. I dont like onions very much and neither does Travis. So I dont add them. It taste fine without onions, but if you enjoy that in your soup you can add it.)
~ 2 stalks celery, chopped
~ A few springs thyme, leaves stripped from stem (if you dont have fresh thyme... spice thyme does fine as well. Just add a dash of that to taste.)
~ Coarse salt and black papper, to taste (I season my chicken with this before cooking it... and add salt to the noodles while they boil)
~ 4 cans (15 oz each) low-sodium, no-fat chicken broth
~ 1/2 pound (half a bag) extra-wide egg noodles or no-yolk egg noodles
~ handful fresh flat-leaf parsley, chopped (again if you dont have fresh spices its okay. I used my jar spices and they tasted just fine. Although I'm sure fresh would taste better... I just didnt have fresh stuff around at the time I made my soup)

Directions:

Heat olive oil over medium-high heat in a deep pot.
Dice chicken breast and add to the pot. Brown chicken. Add vegetables, thyme, and a little salt and pepper. Reduce heat to medium and cover. Sweat the veggies for 5 minutes, stirring occasionally. Add broth, bring to a boil. Add noodles and cook 10 minutes, or until noodles are just tender. Throw in parsley and serve immediatley.

Feeds up to 6 people!

If you are not going to eat a whole pot in one sitting, cook noodles separately and add half a cup to each bowl of soup as you eat through the pot.

" Doctors cannot say why, but many agree that chicken noodle soup, in combination with rest, is the only known cure for the common cold.... Rachael Ray "