Tonight while eating supper I was glancing through my "Baby Center" magazine I got in the mail. It had a recipe in it that looked very yummy. I went out right after dinner w/ Travis and bought ingredients.

It was especially yummy. Would be even better on a hot day.
I did alter it a bit though. Below I will put the magazines recipe... and under that my alterations.



*click image for full size view*

Ingredients:- 1 ripe banana, peeled and sliced
- 1\2 cup nonfat vanilla yogurt
- 1 cup frozen berries
(any mix of strawberries, blueberries, blackberries or raspberries)
- 5 ice cubes

Directions:
Blend ingredients at high speed till smooth. Thin with a little nonfat milk if needed. Makes 2 servings.
Variation: Use frozen banana slices and skip the ice. If berries are to tart for your taste, stir in 1\2 tsp. Splenda (or sugar) or 1 tbs. honey to sweeten.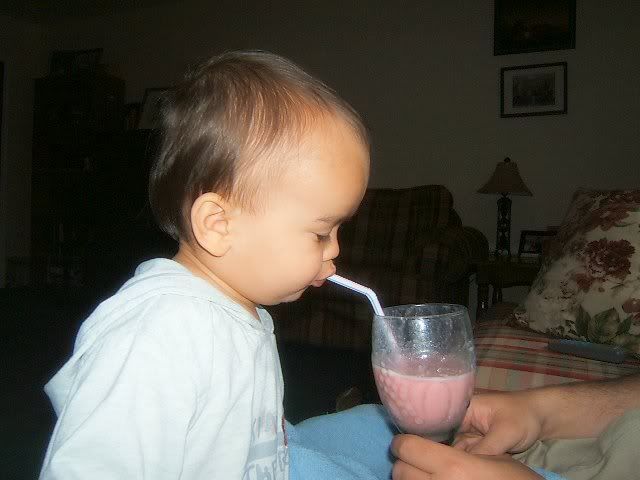 *click image for fullsize view*

MY changes to the recipe:
Instead of using Vanilla yogurt I used Raspberry Yogurt. I figured that was cheaper than buying both strawberries... and raspberries.

As you can tell Caleb absolutely loved it. He actually cried when we took it away from him... and kept on signing "more, more more" to me after it was taken away.

Enjoy!